Aksi LZIS dari lokasi bencana

Rumah yg porak poranda diguncang gempa di Gantiwarno Klaten.



Transfer sumbangan dari Masjid Jami Omar atau Jamiatul Muslemeen of Ottawa Carleton Canada yg disalurkan ke LZIS Assalaam. Jumlah sumbangan 20.000 dollar Canada senilai Rp.165.196.980,- Jazaakumullah khairan katsiira for all of your contributions.
Sukron jazilan for Mas Agus Hermansyah and Brother Brad Watt at Canada.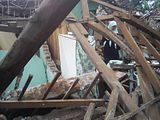 Relawan LZiS Ustadzah Shinta ikut terjun ke lokasi musibah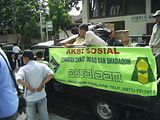 Menyiapkan bantuan di depan asrama Assalaam




Evakuasi korban ke RS. Pak Gito (Usth Dewi) yg dorong grobak rumahnya juga retak.




Bantuan LZIS diserahkan langsung oleh Mudir Ma'had: Ust. HM. Mu'inuddinillah, MA